COMPANY NEWS
2019-06-01
DIAOSI Became The Title Sponsorship of China High-Speed Trains
Recently, DIAOSI as the industry leader, top ten brand, and green environmental protection preferred brand winner,became the title sponsorship of China High-Speed Train. The train is from Shanghai to Chengdu. Sichuan province.
This is the new achievement of DIAOSI doors and windows in the field of brand promotion in 2019. DIAOSI successfully became the title sponsorship of another high-speed train from Beijing to Guangzhou in 2018. It is believed that the flying high-speed train will carry DIAOSI brand everywhere to make more people familiar with it. It is the big goal to achieve, and effective strategy of advertisement supporting for wholesales and retailers.
As DIAOSI became the advertisement partner of China High-Speed Trains, the brand plays a very important role in the areas where the people, information and markets are gathering.
China High-Speed Train lines of which they are from Beijing to Guangzhou, Shanghai to Chengdu, are cross the important areas of economy, politics and culture.They are the linkages from the north to south, and the east to west. The developing regions of these two lines are basically the center of population, economy and future development in China.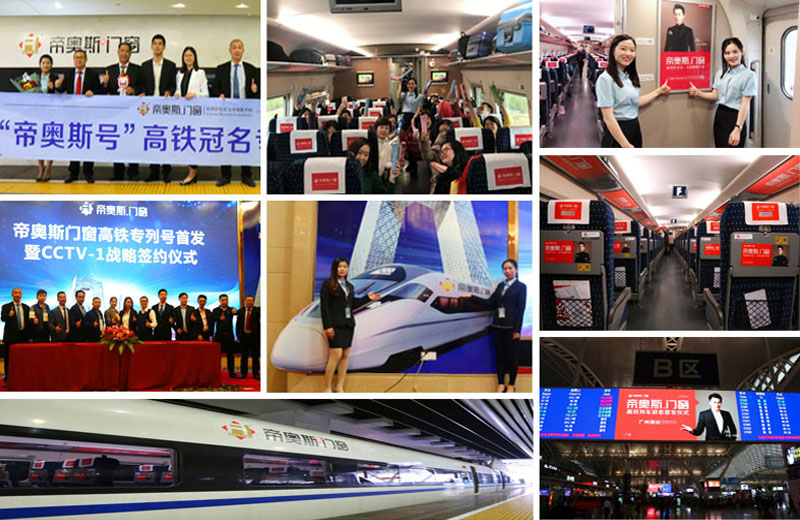 On such important crossroad, DIAOSI has built bases to promote its own brand. Nowadays there're quantities of window and door suppliers and competitors, but DIAOSI as the industry leader, is showing its innovation and faith, offering high quality and professional service, and keeping the sustainable development.